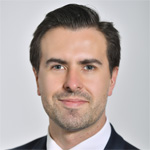 Javier Alonso Gutierrez Orozco - Colombian/Belgian
MPA 2018
Can you describe your SDA Bocconi MPA experience and the importance of taking an International Master in Milano, Italy and at SDA Bocconi School of Management?

Attending the MPA at SDA Bocconi was an incredible experience. Not only owing to its reputation, quality of professors and the stimulating academic environment, but also to the interaction with other master programs, working on joint projects and events together, clubs and in-house university events and activities. Besides this, Milano is a thriving city that never sleeps and it is constantly displaying a wonderful cultural scene and the beauty of the Italian lifestyle. The expositions, galleries, aperitivos and international events, all of these qualities made living in Milano a unique experience and a wonderful complement to what the master offered.
What didn't you expect from your Master that has positively surprised you?

I was pleasantly surprised by the diverse environment the MPA offered, not only due to the multiple nationalities and cultures, but also the professional backgrounds of all my classmates: from nurses to architects, IT engineers to anthropologists. Having such diverse academic and personal points of view greatly enriched the discussions and offered me a different perspective about the public sector.

Why is MPA a unique learning model?

I found in the MPA a program with a unique learning model because it continuously focused not only on the theoretical frameworks of the Public Sector, but also on the application of acquired knowledge and skills. A small pilot laboratory with people from different cultures and backgrounds that, through case studies and group projects, allowed us to put our ideas into practice. All professors emphasized the importance of the master's practicality, of what was taught to us, and how important it is to always keep our feet on the ground finding the right balance between the theories of management and informal realities and complexities of the public sector.

What has impressed you most of the SDA Boccon MPA so far?
I was really impressed by the way Concentrations showed us current cutting edge topics and tools to be applied to the public sector. The topics of Public-Private Partnerships, Strategic CSR, Digital Transformation in Smart Cities, among others, are some of the most relevant trends in the public management and, in that sense, the university helps us take a step forward and get familiar with topics we will be working with soon.

What is the strenght of the SDA Bocconi MPA and Bocconi University networks?

There is no doubt that Bocconi is a strong and recognized brand across Italy (everyone knows and recognizes it straight away) and Europe. As we started searching for internships and job opportunities across the world, it was not hard finding a Bocconi alumni through LInkedIn working in all areas and types of companies, ready to put a good word for the alma mater and its members. Of course, for a recommendation or good word a contact in advance will be needed, but thanks to technology nowadays, it is not be hard to establish a connection and then get a view in advance into the job market and what it offers.

Why would you recommend the SDA Bocconi MPA?

I would recommend SDA Bocconi's MPA program because it is the best combination any aspiring MPA student can find between a structured theoretical framework on Public Administration, practical toolboxes and skills to apply to the public sector and a thriving fun cultural exchange and experience in a wonderful city like Milano.